Engineers of Proton-Electrotex at the WorldSkills Championship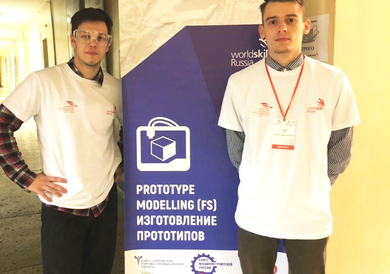 Design engineer of IGBT devices Denis Poturoev and design engineer of pressure-contact devices Ilya Belyaev have won the V closed qualifying WorldSkills championship held at the Orel State University.
They took part in the competition under the competency "45 Prototype Modeling (FS)". The main task of the championship participants was to make 3D models according to the proposed drawings in a limited time, to print the part with a 3D printer, and to improve the model with their own modifications. On the first stage, the participants were offered a drawing of a smart prosthetic leg.
The engineers of Proton-Electrotex excelled themselves and took the first two places. This success demonstrates the high level, expertise and great prospects of the Proton-Electrotex employees.
We congratulate our colleagues on this achievement and wish them further success!
About Proton-Electrotex, JSC:
Proton-Electrotex is the Russian leader in designing and manufacturing power semiconductors including diodes, thyristors and IGBT modules as well as heatsinks, voltage suppressors, resistors and measurement equipment. The company is located in Orel city and ships its products through its partners and distributors all over the world. Please visit website www.proton-electrotex.com for more details about Proton-Electrotex and its offer of products and services.
For further information please contact:
Press contact at Proton-Electrotex
Tel.: +7 (4862) 44-04-56
E-Mail: marketing@proton-electrotex.com