Proton-Electrotex is the leader of the "TechUp 2020" rating in terms of export potential!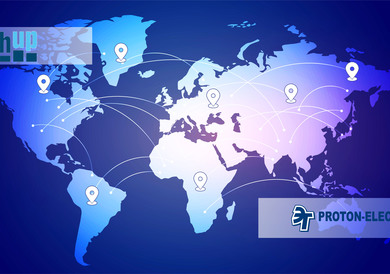 The Proton-Electrotex company has become the winner of the rating in the category of companies with the highest export potential and one of the leaders in the rating among all the registered participants.
The share of exports to Proton-Electrotex, JSC is 70% of the total number of manufactured devices. These results testify to the high quality of the company's products, qualifications, skill and expertise of employees, as well as the demand for power semiconductor devices manufactured by Proton-Electrotex both in the Russian Federation and abroad.
TechUp is one of the most authoritative ratings of fastest-growing innovative technology companies in the Russian Federation. This year, 107 companies from 24 regions of Russia were included in the final list, their total revenue exceeded 220 billion rubles.
The indicators of the TechUp rating are aimed at identifying, monitoring and promoting promising fast-growing technology companies that have high leadership potential, both in the Russian and global markets.
Such achievement became possible thanks to the input of all the company's employees and the official representatives of Proton-Electrotex JSC. Our partners operate in France, Germany, Estonia, Belgium. The products of Proton-Electrotex, JSC are successfully used in solar and wind energy, oil and gas industry, urban and rail transport. In addition to European countries, the Asian market is also actively developing, in particular India, China, South Korea and Japan.
More details about the official representatives of Proton-Electrotex are available in the related section of our website.
The company's international activities include cooperation with various divisions of such global brands as Schneider Electric, Enercon, ABB, Electrotherm and others.
The company is grateful to receive the reward from the organizers of the rating, and intends to show even better results in 2021.
Complete rating is published at the following page.
About the TechUp rating:
The TechUp rating is organized by the Russian Venture Company (RVC) in partnership with the Association of Innovative Regions of Russia (АИРР), PwC and MSP Bank. This rating determines the leaders among the fastest-growing high-tech companies in Russia, which are capable of playing a key role in the future development and modernization of Russian technological industries.
About Proton-Electrotex, JSC:
Proton-Electrotex is the Russian leader in designing and manufacturing power semiconductors including diodes, thyristors and IGBT modules as well as heatsinks, voltage suppressors, resistors and measurement equipment. The company is located in Orel city and ships its products through its partners and distributors all over the world. Please visit website www.proton-electrotex.com for more details about Proton-Electrotex and its offer of products and services.
For further information please contact:
Press contact at Proton-Electrotex
Tel.: +7 (4862) 44-04-56
E-Mail: marketing@proton-electrotex.com