Subscribe to our free newsletter and social media pages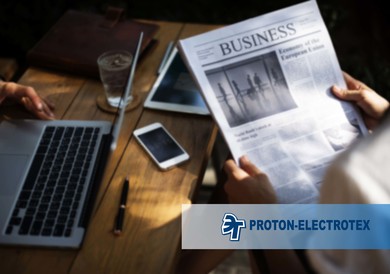 Subscribe to our free newsletter and social media pages to keep up to date with the latest company and power electronics news!
In news digest of Proton-Electrotex you can find a lot of useful information:
Latest news about Proton-Electrotex
Latest news about power semiconductors and electronic industry
Reports about exhibitions and conferences
Information about traditional and latest products manufactured by Proton-Electrotex
Information about new products of Proton-Electrotex
Announcements of free technical webinars by Proton-Electrotex
Free invitations to industry exhibitions and conferences
New scientific articles by leading engineers of Proton-Electrotex
Subscribe and stay up-to-date with the latest world news in power electronics and power semiconductors industries! Just go to this page and confirm your interest.
Besides, you can find actual information about company and power semiconductor devices industry in our social media pages.
We greatly appreciate our readers time, that is why our newsletters are always as informative and useful as possible. In our social media pages, you can find useful articles, video-reports by our researchers, free tickets to the exhibitions.
Stay with Proton-Electrotex!
About Proton-Electrotex, JSC:
Proton-Electrotex is the Russian leader in designing and manufacturing power semiconductors including diodes, thyristors and IGBT modules as well as heatsinks, voltage suppressors, resistors and measurement equipment. The company is located in Orel city and ships its products through its partners and distributors all over the world. Please visit website www.proton-electrotex.com for more details about Proton-Electrotex and its offer of products and services.
For further information please contact:
Press contact at Proton-Electrotex
Tel.: +7 (4862) 44-04-56
E-Mail: marketing@proton-electrotex.com