Proton-Electrotex Took Part in "Power Electronics 2020" Exhibition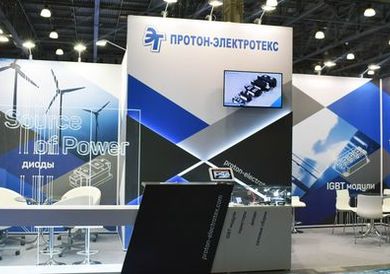 Proton-Electrotex took part in international electrotechnical exhibition "Power electronics 2020" that was held from October 27 to 29th in Moscow.
More than 1,400 people and about 30 companies attended exhibition.
Participating companies presented power electronics components and modules for various industries: power supplies, voltage converters, printed circuit boards, sensors and controls, IGBT modules, power units, drivers, diodes, thyristors, power cooling systems, power assemblies, rectifiers, inverters, cooling radiators, measuring equipment for the electrical components and power sources, and other types of devices.
Representatives of "Proton-Electrotex" presented a number of new products, including the single component module B0, inverter power stack, press-pack IGBT, IGBT module MIHA. Visitors of the exhibition were able to talk to the company's specialists and get detailed information about new products and planned research projects.
We thank the organizers of exhibition for the opportunity to meet our current and future partners in spite of the complicated epidemiological situation in the country. We also thank all visitors and colleagues for their interest to the Proton-Electrotex company.
About the "Power Electronics" exhibition:
Exhibition "Power Electronics" is the only tradeshow in Russia focused on power electronic components and systems for various industries.
Its participants are the leading Russian and foreign suppliers of power electronic components and systems, including power semiconductor components, passive components, auxiliary power sources, power converters, control and measurement equipment.
About Proton-Electrotex, JSC:
Proton-Electrotex is the Russian leader in designing and manufacturing power semiconductors including diodes, thyristors and IGBT modules as well as heatsinks, voltage suppressors, resistors and measurement equipment. The company is located in Orel city and ships its products through its partners and distributors all over the world. Please visit website www.proton-electrotex.com for more details about Proton-Electrotex and its offer of products and services.
For further information please contact:
Press contact at Proton-Electrotex
Tel.: +7 (4862) 44-04-56
E-Mail: marketing@proton-electrotex.com