Section «IGBT Modules» was updated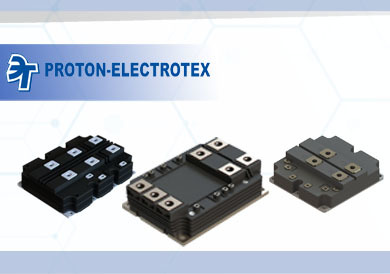 We are glad to inform that section « IGBT Modules» was updated at the official website of our company.
The mass-produced products are IGBT modules in Industry-Standard housing and Automotive qualification. Proton-Electrotex expands its product line with:
Main Benefits of these types of modules by Proton-Electrotex:
Fast and soft reverse recovery

Low voltage drop

Low VCE(sat) value

AlSiC or copper baseplate

Ultrasonically welded power terminals

Improved thermal cycling
High performance, reliability and durability make the IGBT modules a good choice for using in industrial drives, servo systems, electric transport, renewable energy, UPS, power grids and railroad transport.
Main applications:
AC and DC motor drives

Solar inverter

Wind-powered generator

High power converters and UPS

Industrial equipment
Proton-Electrotex offers various options for customization of products, taking into account the individual requirements of each customer to parameters, connections and appearance of the semiconductors.
If you have any questions, please contact us via marketing@proton-electrotex.com or via special form.
About Proton-Electrotex, JSC:
Proton-Electrotex is the Russian leader in designing and manufacturing power semiconductors including diodes, thyristors and IGBT modules as well as heatsinks, voltage suppressors, resistors and measurement equipment. The company is located in Orel city and ships its products through its partners and distributors all over the world. Please visit website www.proton-electrotex.com for more details about Proton-Electrotex and its offer of products and services.
For further information please contact:
Press contact at Proton-Electrotex
Tel.: +7 (4862) 44-04-56
E-Mail: marketing@proton-electrotex.com