Electronica China Exhibition Ends in Shanghai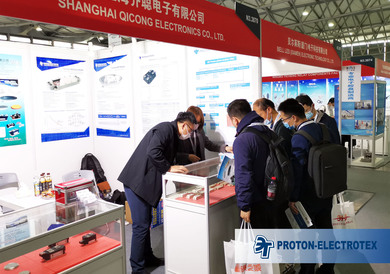 Electronica China came to its close in Shanghai International Expo Centre (SNIEC) on April 16th. The show attracted 1,116 exhibitors who presented their innovative solutions to 48,268 professional visitors on a total exhibition space of more than 60,000 square meters.
The exhibition area increased by 42.5 percent compared to pre-pandemic level.
The Electronica China exhibition was attended by the official representative of Proton-Electrotex in China, Shanghai QiCong Electronics Co., Ltd. Visitors of the exhibition were able to talk to the company's employees and get detailed information about new products, existing product line and planned research projects.
All official representatives of Proton-Electrotex are listed on the Representatives webpage.
This exhibition featured many new products in the field of power semiconductor devices, measuring equipment, automotive, electromechanical and other industries.
Detailed information about Electronica China is available on the official website of the event.
We thank the organizers of exhibition for the opportunity to meet our partners. We also thank all visitors and colleagues for their interest to the Proton-Electrotex and Shanghai QiCong company.
You can also find information about other upcoming events and schedule a meeting on the "Events Calendar" page of our website.
About Electronica China:
Electronica China is the largest electronics industry exhibition in Asia. The event showcases industrial trends including a wide range of parts and accessories, system solutions, hardware and software. 1,373 participants and 81,126 visitors attended the event in 2020.
About Proton-Electrotex, JSC:
Proton-Electrotex is the Russian leader in designing and manufacturing power semiconductors including diodes, thyristors and IGBT modules as well as heatsinks, voltage suppressors, resistors and measurement equipment. The company is located in Orel city and ships its products through its partners and distributors all over the world. Please visit website www.proton-electrotex.com for more details about Proton-Electrotex and its offer of products and services.
For further information please contact:
Press contact at Proton-Electrotex
Tel.: +7 (4862) 44-04-56
E-Mail: marketing@proton-electrotex.com