Proton-Electrotex Has Won the ELECTRONICA 2021 Award!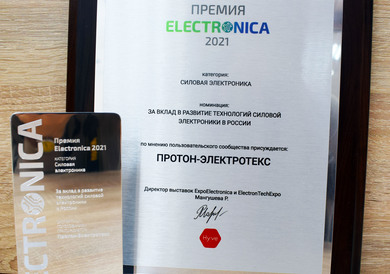 Proton-Electrotex won the Electronica 2021 award in the category "For contribution to the development of power electronics technologies in Russia".
Proton-Electrotex had nominated its IGBT module in MIDA housing for this category. Development of this product family was focused on technological solutions ensuring maximum performance, in particular efficiency and power density.
The process of selecting the winner had two stages including an open online voting by the user community, and analysis of nominees and selection of a winner by experts in the field of power electronics.
The IGBT module in MIDA package manufactured by Proton-Electrotex has the following unique advantages:
Low dynamic losses
Low values of saturation voltage
Improved resistance to thermal cycling
Effective switching frequency
Increased operating temperature
Proton-Electrotex also manufactures optional drivers which can be installed directly on the IGBT module or attached with a wired connection.
The low inductance package and good thermal resistance make the MIDA IGBT module a good choice for inverter applications. The module is designed and manufactured in Russia in accordance with Russian specifications.
The award ceremony was held on April 15 at the ExpoElectronica 2021 exhibition. The main purpose of the award is to celebrate the activities and achievements of Russian companies in the electronic and electrical industry.
Winning the Electronica 2021 award testifies to the high quality of the products and the expertise of Proton-Electrotex employees.
We would like to express our gratitude to everyone who took part in the open online voting and voted for Proton-Electrotex, as well as to the organizers of the event for the opportunity to take part in the competition.
About the Electronica 2021 award:
Independent award, the purpose of which is to recognize the achievements of Russian and foreign companies in the electronic and electrical industry in the Russian market. This year, 15 nominees have been nominated for the Prize in 6 categories.
About Proton-Electrotex, JSC:
Proton-Electrotex is the Russian leader in designing and manufacturing power semiconductors including diodes, thyristors and IGBT modules as well as heatsinks, voltage suppressors, resistors and measurement equipment. The company is located in Orel city and ships its products through its partners and distributors all over the world. Please visit website www.proton-electrotex.com for more details about Proton-Electrotex and its offer of products and services.
For further information please contact:
Press contact at Proton-Electrotex
Tel.: +7 (4862) 44-04-56
E-Mail: marketing@proton-electrotex.com