The foundation day of the company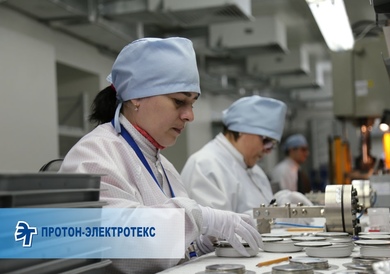 The company was founded in 1996 and in span of a few years has become one of the leading manufacturers of power semiconductor devices in Russia. Now the Proton-Electrotex brand is known all over the world. Company has grown from a group of like-minded people into a large organization of international level.
The dedication of its founders has become a key to the eventual success and growth of Proton-Electrotex, allowing it to make achievements recognized all over the world. The core principles of loyalty, respect, flexibility, excellence and integrity have formed the basis of the company culture that we adhere to when communicating with customers, partners, suppliers and colleagues.
Today the company employs over 500 highly qualified, creative, responsible and hardworking people. Proton-Electrotex has official representatives in 7 countries.
Over the years of its existence, Proton-Electrotex has designed rectifying, avalanche and fast semiconductor diodes and thyristors in stud, disc and module designs, IGBT modules, measuring equipment, drivers, heatsinks and power assemblies.
The company's products are widely used in railway transportation, oil and gas industry, EVs, power grids, renewable energy, metallurgy, welding and many other industries.
Every year products of Proton-Electrotex are awarded at various ratings and competitions. The company's work is also noted at the state level. Proton-Electrotex was acknowledged as a backbone organization of the Oryol oblast having regional significance and a significant impact on the employment of the population and social stability.
Every year the authoritative rating "TechUp" highlights the company as one of the national leaders in terms of export volume and export potential, and its power semiconductor devices are consistently included in the list of "100 best goods of Russia".
The high level of its business processes is repeatedly confirmed by independent international audits.
Proton-Electrotex JSC expresses its deep gratitude to each employee, partner, supplier and customer for cooperation, interest and trust! Of course, we will continue to develop the company, to expand our product line and to become better together with you!
About Proton-Electrotex, JSC:
Proton-Electrotex is the Russian leader in designing and manufacturing power semiconductors including diodes, thyristors and IGBT modules as well as heatsinks, voltage suppressors, resistors and measurement equipment. The company is located in Orel city and ships its products through its partners and distributors all over the world. Please visit website www.proton-electrotex.com for more details about Proton-Electrotex and its offer of products and services.
For further information please contact:
Press contact at Proton-Electrotex
Tel.: +7 (4862) 44-04-56
E-Mail: marketing@proton-electrotex.com