Proton-Electrotex joined the "Consortium of the Radio-electronic Industry" Association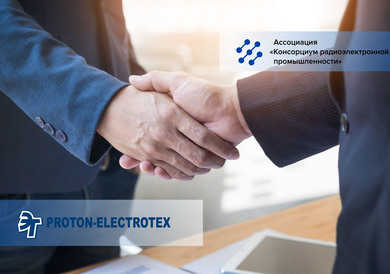 The electronic industry is the backbone of technological development of the Russian Federation. The consortium of the Radio-electronic Industry coordinates representatives of the Russian electronic industry aiming to fulfil the national strategy for the electronic industry development and to secure long-term technological leadership.
Members and partners of the Association are:
Developers and manufacturers of microelectronics, equipment and systems
Scientific and educational organizations of the industry and related fields
Public professional associations and network communities
Among its activities, the Association works on a development strategy, increasing the competitiveness of the electronic industry, consolidation of industry information, and attraction of investments in ongoing projects.
We express our gratitude to the Consortium of the Radio-electronic Industry and look forward to long and fruitful cooperation!
More information about the members of the association, activities and goals of the Association is available on its official website
About the Consortium of the Electronics Industry:
The main goal of the Consortium is to promote development and competitiveness of the radio-electronic industry in the Russian Federation. Projects of the Association are carried out by various workgroups formed within committees. The key task of each committee is to make a real contribution to development of the radio-electronic industry.
About Proton-Electrotex, JSC:
Proton-Electrotex is the Russian leader in designing and manufacturing power semiconductors including diodes, thyristors and IGBT modules as well as heatsinks, voltage suppressors, resistors and measurement equipment. The company is located in Orel city and ships its products through its partners and distributors all over the world. Please visit website www.proton-electrotex.com for more details about Proton-Electrotex and its offer of products and services.
For further information please contact:
Press contact at Proton-Electrotex
Tel.: +7 (4862) 44-04-56
E-Mail: marketing@proton-electrotex.com